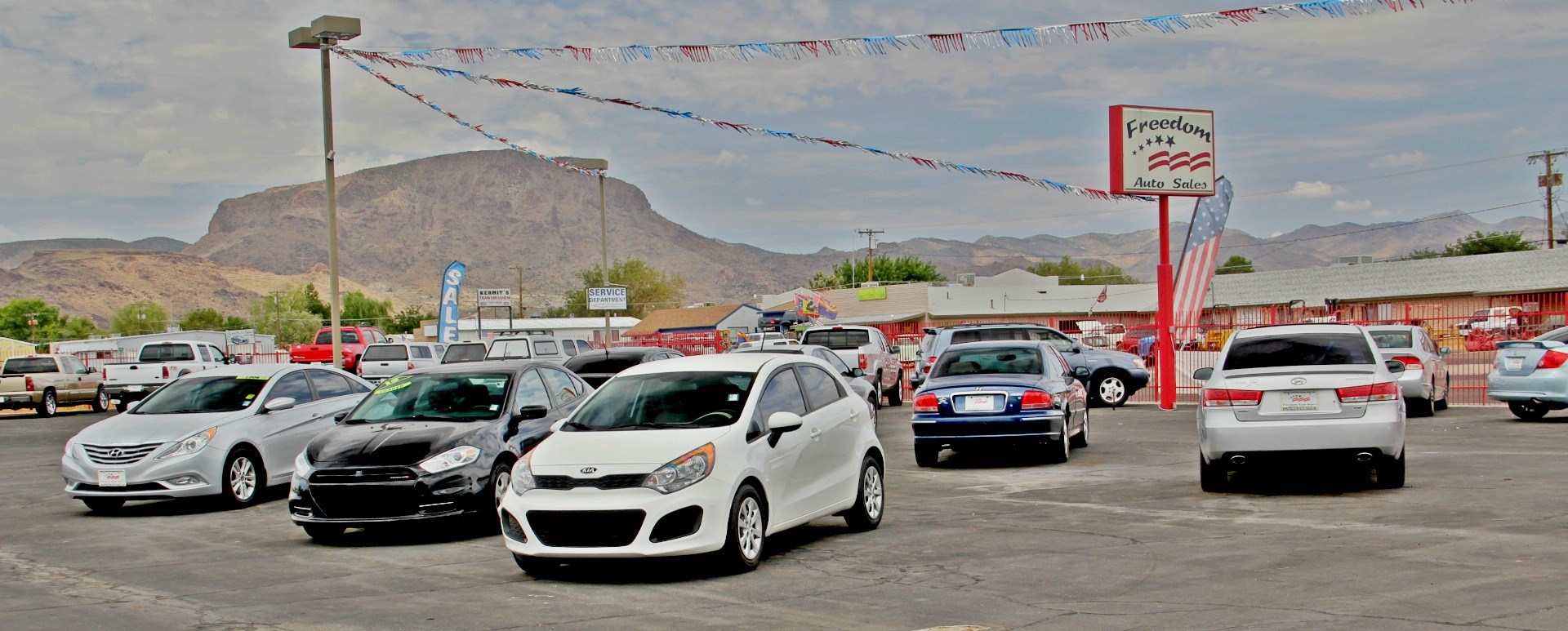 Have a question about a certain vehicle?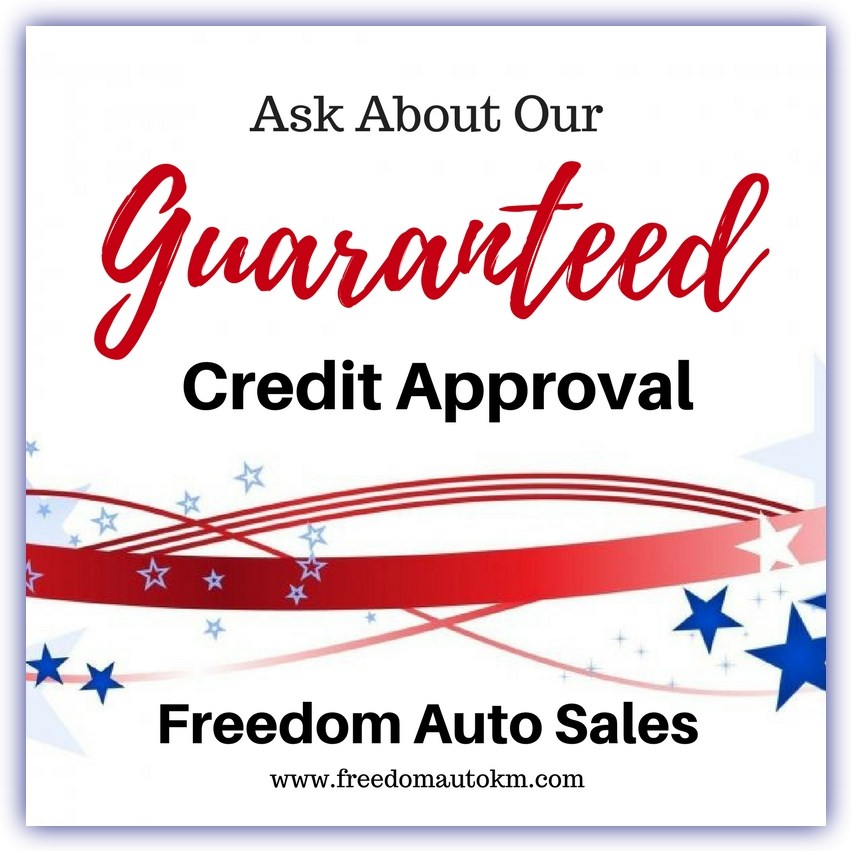 Dealership Info
Business Hours
Weekdays:

9:00 AM to 6:00 PM

Sat:
10-5
Sun:
Closed
Location
2480 Northern Ave.
Kingman, AZ 86409

Best of the Kingman Used Car Dealerships!

We are the best of the Kingman used car dealerships and that's not just a slogan, but fact! We've been here longer, sold more cars, trucks and SUV's, with thousands of satisfied customers to prove it and today's the perfect day for YOU to experience the Freedom Auto Sales difference. With two large used car dealerships in Mohave County under $10,000 inventory (combined, the largest in all of Northern AZ...That's right, the largest) we are proud to say that we can not only work with you if you have bad credit, but can guarantee your credit approval.

It's not so much that we are that darn good...he-hmmm...well, maybe we are, but ultimately we just know how to respect our customers and how to get the tough, even the toughest, deals done and ultimately approved for an

auto loan

. This means that with good credit we can get you rates as low as 2.99% and with bad credit, yes, even with the most extreme bad credit, you or we can imagine, we can get your credit approved to buy a car!

We don't take those words lightly and want our customers to know that if you are looking for

used cars for sale in Kingman, AZ

, then we are here to offer a solution to your problem. Many dealers say they can help, but in reality can't... Quite frankly, they are not equipped to help you get into a car, truck or SUV.

We brag, but not because we are cocky, simply because we have mastered the art of bad credit auto loans along with our car buying principles. We not only look for inexpensive cars, trucks and Suv's (to keep your payments low), but we have dedicated buyers that take our well defined, excellent vehicles "only" car buying process seriously, but take the time to find excellent vehicles that will arrive to our lot with very limited problems to solve. We strive for your satisfaction, with a policy of under promising and OVER delivering...

We've rambled long enough here, but straight to the point... If you've been rejected by other Kingman dealers, then it's time you've found Freedom, because where other dealers say no, we say yes. Today's the day, you're the one and Freedom Auto Sales of Kingman is the place! Don't hesitate any longer, get on the phone, fill out our no obligation, 90 second credit application or stop on by in person and see how easy it is to get on the road with your "new" vehicle. We welcome the opportunity to serve you at Freedom Auto Sales, the Best of the Kingman Used Car Dealerships!
Disclaimer
*At Freedom Auto Sales we strive for perfection and work hard to produce perfect results. That said, occasionally, as with all humans, we make a mistake. No prices and/or information on this website shall be considered a binding agreement. Please call or stop by in person to ensure the validity of any and all information and/or advertisements on this site. Ultimately and finally, the dealership (Freedom Auto Sales) shall not be bound by any information on this website.

**All prices listed on this website are simply the sales prices of the vehicle listed for sale and do not include official government fees (such as tax, title and license), a $299 dealer documentation fee, any dealer added accessories/customizations, finance charges, service contract charges (excluding the free 3 month/3,000 mile warranty included with each vehicle sold), gap insurance and/or any other unnamed fees. Out of state customers may be required to pay more in fees when registering their vehicle in their state of residence.

***Any monthly payments quoted on this website shall be deemed to be for customers with a qualifying credit history, meeting all the lenders stability requirements (i.e. including, but not limited to monthly income, length of time on the job, time at residence, etc. at the lenders discretion), with a credit score of at least 720, the equivalent of a 10% down payment, 36-60 month repayment terms, with an APR of 3.99%. Ultimately, all quoted payments will only be possible On Approved Credit (OAC). All applicants will NOT qualify for the preferred terms and the lender(s) will have the final say as to an applicants qualification. Again, please contact Freedom Auto Sales prior to relying on the terms/payments on this website to make a buying decision.
Automotive Directory